The 7 Best Reciprocating Saws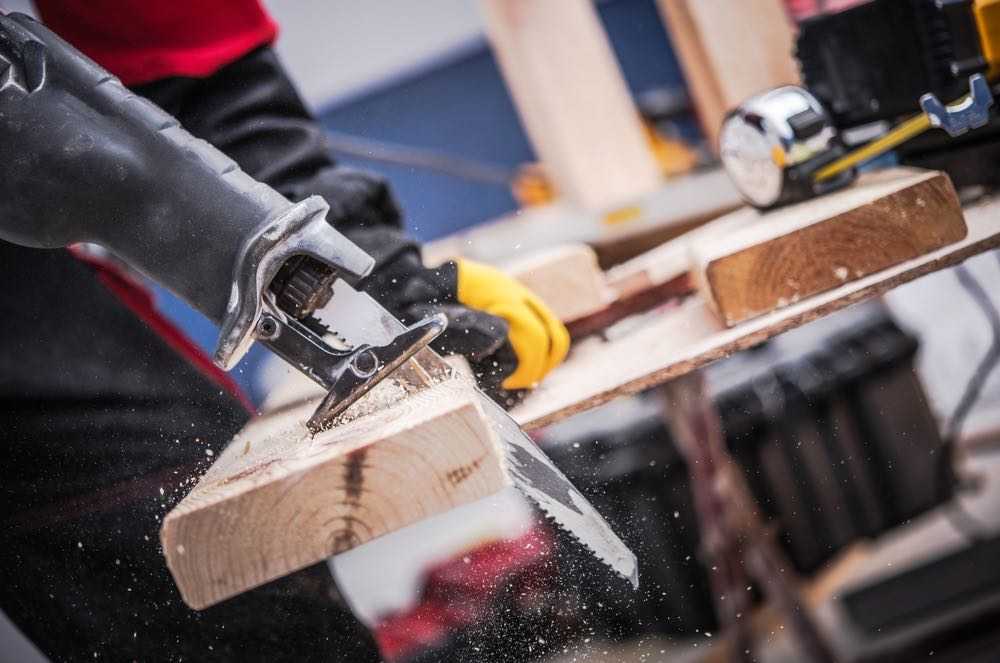 From pruning shrubs to demolition work, reciprocating saws can do it (almost) all. Our guide brings you the best reciprocating saws!
Reciprocating saws (often called "Sawzalls" after the first such product on the market) excel at cutting through a wide variety of materials. They feature 4-to-12 inch blades that move back and forth like a knife carving a turkey. They favor speed and strength over precision, so you won't use them for fine woodworking. But they're just what you need for many other tasks, from demolition work to pruning trees to cutting openings for windows. I've put together a list of what I think are the best reciprocating saws in a variety of categories.
If you just want to skip ahead to the final verdict, here are my picks:
Read on for reviews of all my picks as well as some tips on what to look for to choose the perfect reciprocating saw for you.
My Top Picks
I think the seven tools below represent some of the best tools on the market. But each has its strengths and weaknesses, so read on to find the best one for your specific needs.
Buying Guide
If you're new to reciprocating saws, you might be wondering what features to look for. I'll walk you through the most important features to help you decide which ones matter to you and which ones don't.
Corded vs. Cordless
The first big decision you'll need to make is whether you want a traditional corded reciprocating saw or a cordless model. Will you always be near a source of electrical power, or at least within reach of an extension cord? For many home improvement or light construction projects, that might be the case. (But remember that power cords are a huge tripping hazard, so always be careful to avoid an accident.)
If you have a large property or are working somewhere without easy access to electricity, a cordless model may be just the ticket. Of course, you still need electricity to charge the batteries. But as long as you have a couple batteries charged up, you can do quite a bit of sawing before you'll need to recharge.
A less obvious factor is the amount of power you'll need from your saw. Many cordless reciprocating saws deliver considerably less power than their corded cousins. If you're cutting through typical home construction like framing timber, plywood, and PVC pipes, you don't need to worry. But consider a corded model (or a higher-end cordless) if you'll be tackling metal pipes, heavy timbers, or pressure-treated wood.
Also bear in mind that manufacturers' batteries are generally not compatible with each other. You'll need to buy batteries and chargers specific to your cordless reciprocating saw's manufacturer. If you already own some tools in a particular manufacturer's cordless line, it may make financial sense to stick to a reciprocating saw from that same company.
Power
I touched on this above, but think about what material you'll be cutting through with your reciprocating saw. If you choose a corded model, motors up to about 11 or 12 amps will be adequate for most home improvement projects, pruning branches, and so forth. For thicker or tougher material like thick or pressure-treated timbers, metal pipes, and the like, you'll want a heavier-duty 13 to 15 amp model. Any of these will run on a standard residential 15 amp electrical circuit, but if the saw is drawing the full 15 amps, you'll need to make sure it's the only thing on that circuit.
For cordless tools, it's not as simple. While higher-voltage cordless tools will generally provide more power, it can vary a lot from manufacturer to manufacturer. I recommend reading the individual reviews for cordless reciprocating saws to see what types of jobs they're appropriate for.
Vibration Control
The back-and-forth motion of the blade in a reciprocating saw can generate a lot of vibration in the tool. These vibrations are typically transferred right back to your hands and arms. With prolonged use, you'll find your hands cramping, feeling numb, and just generally sore. Special vibration-reducing gloves can help, and are a cheap fix especially if you already own a reciprocating saw.
Heavier reciprocating saws tend to dampen the vibrations more than lighter ones, although of course their extra weight brings its own physical challenges. Higher-end saws from many manufacturers these days have some sort of vibration reduction mechanism. The exact mechanism varies, but in general they try to either isolate the vibration from the operator or counterbalance it internally so you don't feel it as strongly. If you expect to be using your reciprocating saw for hours on end, this could make for a huge improvement in your experience.
Blades
Most reciprocating saws, including all of the ones I've listed above, accept the same style of blade. So while most manufacturers have their own lineup of blades, you aren't limited to just that company's blades. You can shop around and find the blade that is right for the task at hand, whether from that manufacturer, one of their competitors, or a third-party company that just specializes in blades.
It's important to use the right blade for the material you're trying to cut through. Many saws come with a "general-purpose" blade that's good for cutting through things like 2x4s with nails in them. But you'll find the job becomes much easier (and safer) with a blade specifically made for the task. One of the main differences between blades is the number of teeth per inch (TPI). Lower TPIs tend to cut faster but leave a more jagged cut than higher TPIs.
Wood-Cutting Blades
Most blades for cutting wood have between 5 and 10 TPI. Lower TPI blades make fast work of wood, as long as you know it doesn't have contain nails or other metal. For cutting through wood with nails, you want a blade with 10 TPI or higher.
Metal-Cutting Blades
Metal-cutting blades have much finer teeth, ranging from 10 to 24 TPI. The blades with 10 TPI are appropriate for cutting through wood with nails in it. Higher TPI are for cutting pure metal like pipes.
Combination Blades
Some blades have two different TPIs on different parts of the blade. This lets you quickly cut through varying materials by adjusting which part of the blade you're using, without changing blades. Read the specifications of the blade to find one for the combination of materials you're cutting.
Demolition Blades
These are similar to wood-cutting blades or combination blades, but are typically thicker and sturdier. They're meant for demolition work where quickly cutting through a variety of material is more important than precision and clean cuts.
Specialty Blades
You can find all kinds of specialty blades for cutting different materials. Examples include cutting through landscaping stone, shower tiles, plaster, and so forth. If you have to cut through something that doesn't fall into one of the above categories, odds are someone makes a blade for it.
Conclusion
All reciprocating saws are made to quickly cut through a wide variety of materials. Some are better for heavy-duty jobs, while others excel at getting into hard-to-reach spaces.
I think the Milwaukee 2720-21 M18 Fuel Sawzall is an excellent all-around choice. But you might have specific requirements, so I hope the reviews above have helped you find the tool that's right for you!