The Best Contractor Table Saws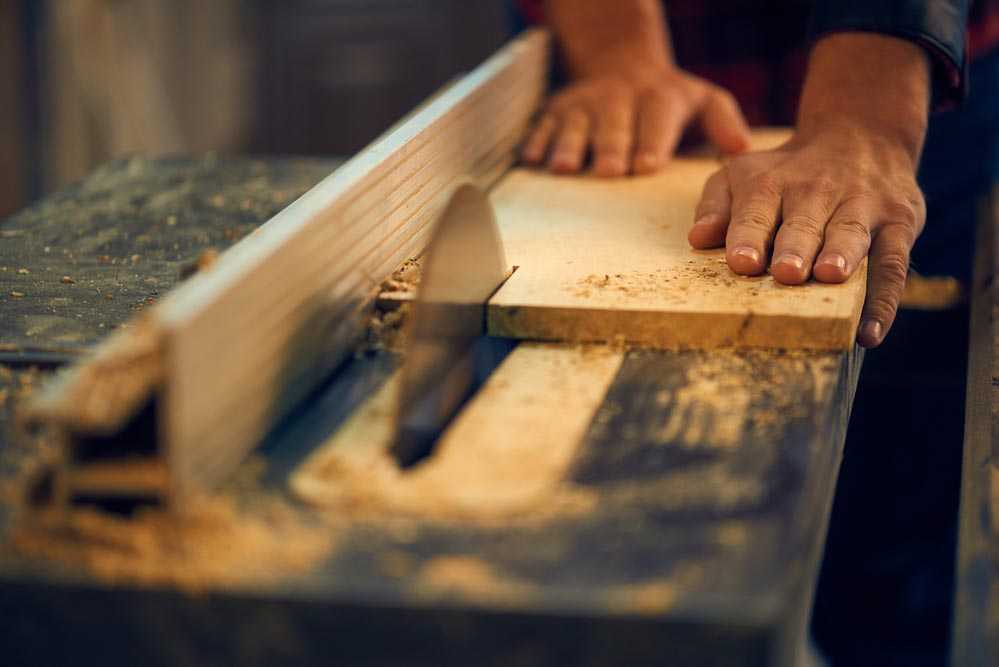 Contractor table saws provide precision and power but won't take up your entire shop. Check out our guide to the best on the market!
If you're looking for a contractor table saw, you're probably pretty serious about the quality of your work. There are a lot of options on the market, and some of them are from lesser-known brands. I've put together this guide to some of the best products out there, with an honest assessment of their strengths and weaknesses.
My overall pick for the best combination of features and value is the Powermatic 1791230K. But any of the tools below would make a great choice. Read on to find out why!
Why a Contractor Table Saw?
If you're like me when I first started thinking about a contractor table saw, you might be upgrading from a smaller portable jobsite saw. You might even be wondering what exactly makes a contractor table saw different from a portable saw. They're both used by contractors, right? Well, yes, contractors use both kinds of saw, but the term "contractor table saw" has a more specific meaning.
Construction
Contractor table saws are typically a single unit comprising both the saw table and support legs, as opposed to portable saws which have a separate optional stand.
The tables are typically made of cast iron rather than aluminum or other lightweight material. This makes them much heavier (200-300 pounds) but that extra mass greatly reduces vibrations, resulting in more accurate cuts. Contractor table saws are still light enough to move from jobsite to jobsite, but for the most part they're meant to be stationary. Once you get it set up, you'll want to bring the work to the saw rather than the other way around.
There are plenty of videos like this one that show you how to easily build a rolling base for your contractor table saw. This can be a nice addition if you'd like to wheel it around your shop as needed.
Motor and Drive Mechanism
The motor and drive mechanism also set contractor table saws apart from their portable cousins. They typically have induction motors rather than universal motors. Without getting too deep into the technical differences, induction motors are generally both quieter and more powerful. The induction motor is connected to the blade shaft via a system of belts, rather than connecting directly as on a portable saw. This provides for greater torque, but adds a number of moving parts that need to be properly maintained for safe operation.
The motor on a contractor table saw typically bolts on to the back of the unit. This lets you remove it for easier breakdown and transport, but means the saw isn't quite as self-contained as a portable model.
Rip Capacity
Most portable saws have a rip capacity that tops out at 24 to 30 inches. That limits the size of material you can safely saw on them. By contrast, you can expect a contractor table saw to accept more than 30 inches, typically at least 36. And many have extension tables or wings that extend that to 52" or even more.
Other Differences
Most portable saws have an enclosure around the blade to enable dust collection. That's not typically the case on a contractor table saw—they're usually open at the bottom, so sawdust drops right out onto the ground. Not a problem on a jobsite, but in a shop setting you might not like that so much. There are ways to rig up enclosures to improve dust collection, but your luck may be a little hit-or-miss depending on the model.
Finally, as alluded to earlier, these saws are more precise overall than the smaller portable saws. They vibrate less, and they're generally machined to tighter tolerances. Unlike most portable saws, you can expect rip fences and miter gauges to be accurate and tight, without a lot of play. If you plan to do fine woodworking with your saw, a contractor table saw will repay your investment.
Be sure to check out our complete guide to choosing a table saw for more in-depth discussions of some of these topics!
The Top 5 Contractor Table Saws
Now that we know the basics about contractor table saws, let's take a look at my favorite table saws on the market.
Conclusion
If you're serious about woodworking, you'll want to consider a contractor table saw. As the centerpiece of your shop, your table saw should be safe, durable, and capable of cutting through just about anything you throw at it.
Before investing in a contractor table saw, make sure to read up on table saw safety tips so you don't wind up injuring yourself due to a preventable mistake. Although contractor table saws are incredible tools, they pose health and safety risks unless you know how to properly operate one.
I recommend picking up my favorite contractor table saw—the Powermatic 1791230K. This highly efficient machine collects all the dust and wood chips you can throw at it, has plenty of rip capacity (50"), and provides a sturdy surface for deep and precise cuts. For these reasons, I recommend it to just about anyone with a woodshop.