The 9 Best Table Saw Blades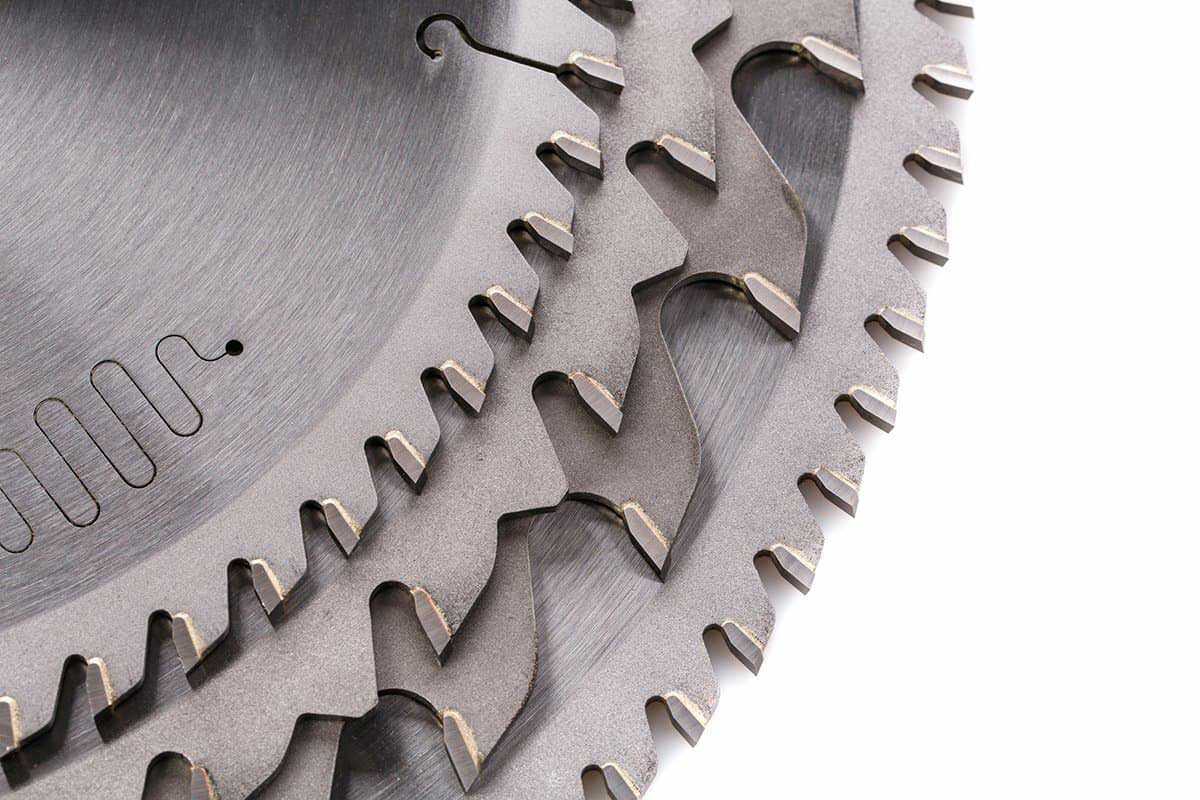 Upgrading your stock table saw blade will produce much better results. Read our take on the best table saw blades for your 10" table saw!
It's time to upgrade the stock blade that came with your table saw! You can work more efficiently and get better results with a modest investment in a higher-quality saw blade.
Table saw blades come in a wide variety of sizes and configurations, each optimized for a different purpose. Most table saws used by DIYers and woodworkers take a 10" blade. Here I'll give you a look at the best table saw blades in three different categories: general-purpose blades, ripping blades, and crosscut blades.
Jump To:
All the blades mentioned here are quality products from reputable manufacturers, but they each have pros and cons. In each category, I'll give you my recommendation for:
Best Overall Value: These are the blades that hit the "sweet spot" in the tradeoff between price and performance.
Best Premium Blade: If you have the budget, you can get the best results by purchasing a high-performance saw blade made to last.
Most Affordable Blade: Even if you don't want to spend a lot, you can find blades that have proven themselves. I'll steer you clear of cheap saw blades that underperform or wear out too soon.
If you want to skip all the details and buy a general-purpose blade that's way better than the one that came with your saw, I recommend the Freud 10" x 40T Premier Fusion.
Let's look at the picks for each type of blade.
---
Best General-Purpose Table Saw Blades
General-purpose blades typically feature 40 to 50 ATB teeth. This configuration lets them rip wood acceptably fast while still producing clean crosscuts. You can leave them installed without worrying about having the wrong blade if you switch between rip and crosscuts.
---
Best Table Saw Blades for Ripping
Rip blades are the right tools for the job if you have a lot of lumber that you need to cut lengthwise. But they'll be a poor choice if you need to cut plywood or make crosscuts in hardwood. You'll want to pair them with a crosscut or general-purpose blade.
---
Best Table Saw Blades for Crosscuts
The high tooth count on crosscut blades means each tooth removes less material. This leads to cleaner crosscuts but means you must feed the material much more slowly, so you won't want to use them for long rip cuts.
---
What to Look For
Let's take a look at some key points to consider when evaluating the best table saw blades. For more details, take a look at our complete guide to choosing the right table saw blade.
Rip-cuts vs. Crosscuts
All hardwoods and softwoods have a grain, which refers to the lengthwise arrangement of wood fibers resulting from the way a tree grew. These individual fibers are tough, which is what makes wood such an excellent building material. But the direction in which you're cutting the wood makes a big difference.
Ripping wood refers to making a rip-cut with the direction of the grain. Separating the wood fibers from each other, rather than cutting across the fibers, is less demanding for both your saw and blade. Blades designed to take big bites out of the wood make these cuts the fastest. Since these are typically your longest cuts, the time savings can add up.
Crosscutting wood refers to cuts made across the grain. This requires cutting individual fibers rather than separating them from each other. These cuts place more demands on your saw and blade. For a clean cut, you'll want a blade that takes smaller bites with each tooth.
Sheet goods like plywood generally don't have a specific grain. But each individual layer of plywood has its own grain, alternating 90 degrees from one layer to the next. You're cutting across the grain in some layers no matter which direction you cut, so you'll want to use a blade with good crosscutting ability.
More specialized blades exist, such as dado blades for cutting grooves (or dadoes) in wood. I'm not going to cover dado blades in this article and focus on more commonly-used blades.
Tooth Shape: FT or ATB
Most of the blades reviewed above are either FT or ATB blades.
FT is short for flat-top, meaning the tops of the teeth are flat across the width of the blade. Flat teeth chew through the material in your workpiece rather than slicing. They're better suited for less strenuous cuts such as ripping with the grain of the wood.
ATB is short for alternate top bevel, referring to the angle (or bevel) of the teeth. These teeth are typically cut at an angle between 10 and 40 degrees compared to a flat tooth. The direction in which they slope down (left-to-right or right-to-left) alternates between teeth. Angled bevels produce more of a cutting or slicing effect than flat teeth do. As such, ATB blades produce cleaner cuts than FT blades and are better suited for the more difficult job of cutting across the grain of the wood.
Tooth Count
The fewer teeth a blade has, the wider the gap between them (called the gullet). Larger gullets let you feed material into the saw faster, with each tooth removing more material. Because each tooth is doing more work, blades with fewer teeth are best suited to ripping wood. Ripping blades often have just 24 teeth.
More teeth on a blade mean each tooth has to remove less material. This tends to produce cleaner cuts and lets the blade tackle the more taxing job of cutting across the grain. The smaller gullets mean you must feed material into the saw at a slower rate. Crosscut blades typically have between 60 and 80 teeth, though some have up to 100.
General-purpose blades aim to do an adequate job of both ripping and crosscutting. They have tooth counts between the above ranges—40 or 50 is a typical number.
You'll often see the size and tooth count abbreviated. For instance, 10" x 40T indicates a 40-tooth 10" blade.
Kerf: Full or Thin?
A blade's kerf refers to the thickness of the cuts it makes. Full-kerf blades remove about 1/8" (0.125") of material with each cut. Make sure you always account for this lost material when measuring and planning your cuts!
Some table saws motors may struggle when removing so much material, especially in hardwoods. You're more apt to encounter that with portable jobsite models.
If you run into problems with your saw bogging down, you might consider a thin-kerf blade. The width of a thin kerf varies from about 0.092" to 0.10". That amounts to around 25% less material with each cut. Taking out less material with each bite eases the load on the motor.
Thicker blades have advantages of their own, though, such as being less vibration-prone. Most of the blades reviewed above are full-kerf blades, but there are some thinner blades sprinkled in. Pay attention to the kerf thickness of blades when swapping them out, as you may need to recalibrate your saw's fence distance!
Blade Coatings
You'll find blades that are bare metal, and others that have a coating applied to them. On cheaper blades, the coating might just be a thin layer of paint. These tend to wear off with use, sometimes leaving a deposit on your workpiece.
Some manufacturers apply coatings they say improve the performance of the blade. One benefit is that the blade coatings help prevent the buildup of pitch (resin) from the cut wood. That potentially reduces friction and leaves a cleaner cut.
Other claims about the coatings, such as reducing heat buildup, are harder to verify in the shop. In general, you can assume the coating on the best table saw blades is doing more good than harm. But I wouldn't choose a blade just based on something like the blade coating.
One Blade or Several
A ripping blade will let you efficiently rip long lengths of lumber. And a crosscut blade will make nice clean cuts across even the hardest of woods. But neither will do a great job on the other style of cut. If you use your table saw for both, you might be switching blades back and forth more than you like.
A general-purpose blade saves you the blade-swapping and provides acceptable performance. But it won't do either job quite as well as a purpose-built blade. This choice comes down to your personal preference.
Note: Don't confuse the term "general-purpose blade" with "combination blade". The latter refers specifically to a blade that has both ATB and FT teeth. Most combination blades would count as general-purpose blades, but not all general-purpose blades are combination blades!
Conclusion
I hope the recommendations above show that you don't need to spend a ton of money to get good results. Even a moderately-priced general-purpose blade will be a significant step up from the stock blade that came with your saw. And the best table saw blades will give you even cleaner cuts along with increased useful life.
A fantastic general-purpose blade is the Freud 10" x 40T Premier Fusion.
If you're serious about getting the best results, dedicated blades for ripping and crosscutting will let you step up your work. Just be sure you're willing to spend the time to swap out the right saw blade for the job.
Happy sawing!