The Forrest 40T Woodworker II Reviewed
The Woodworker II is often called the "gold standard" of woodworking blades. Is it right for you?
The Woodworker II from Forrest is a line of premium table saw blades. In this article, I'll take a look at the 40-tooth model of this blade, specifically the 10" diameter version.
Overall, this is an excellent general-purpose blade for most woodworking applications. It cuts smoothly and easily through a variety of materials, leaving surfaces that require almost no clean-up.
Features and Benefits
Let's walk through some of the technical features of the Woodworker II. I'll help you decide which ones are important to you. You can also check out my complete guide to choosing a table saw blade.
Related: Choosing the Right Table Saw Blade
Blade Size
Forrest certainly is a believer in giving the customer options when it comes to blade size. The Woodworker II 40T is available in diameters ranging from 4 3/8" all the way up to 16". I'm going to be talking about the 10" diameter blade in the rest of this article. That's the blade size supported by most contractor- and cabinet-style table saws. And I suspect most people interested in this blade are using a 10" table saw.
Related: The 7 Best Table Saws
If you've got one of the newer 8 1/4" portable table saws, Forrest makes a blade for you as well. In my experience, it's not as widely available as the 10" blade, so you may end up needing to order from Forrest directly. (As of this writing, they are running a backlog of five months on factory orders.)
Tooth Configuration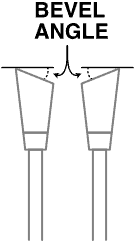 The Woodworker II arranges its 40 teeth in an ATB (alternate top bevel) configuration. Rather than being ground flat across, each tooth is beveled (angled) by 15°. The direction of the bevel alternates between teeth. This is a pretty typical tooth configuration for a blade designed for cutting wood. The angled teeth help to slice through wood fibers like a knife, rather than just gouging out chunks as flat-top teeth would do.
The hook angle (or rake) of a table saw blade measures how far forward the teeth are angled. A 0° rake would mean the teeth stick straight out along a radius line from the center of the saw. The Woodworker II has a 20° hook angle. That's pretty high for a general-purpose saw blade—a more typical rake would be 10-15°. This means the Woodworker II is more aggressive than many similar blades in how it grabs onto wood as you feed it.
You'd normally see such a high hook angle on a blade specially made for ripping wood. And you'd also expect it to make not-so-clean cuts. But the result with the Woodworker II is just the opposite—cuts are super clean.
Note that you should never use the Woodworker II to cut metal. The high hook angle will make it too prone to grabbing the metal out of your control, leading to a dangerous situation.
Kerf
The standard Woodworker II is a full-kerf blade, meaning it removes 1/8" of material when it cuts. With a plate thickness of .090", this is a solid blade that is not prone to vibration.
Some smaller table saws have motors that may struggle powering a full-kerf blade through harder wood. The rise in popularity of portable jobsite table saws has led to similar growth of thin-kerf saw blades. Forrest also offers some thin-kerf options in the Woodworker II line. As with the smaller diameter blades, these aren't as easy to find in retailers, so ordering direct may be required.
The full-kerf blade is stiff enough that it won't chatter or vibrate in almost any type of wood. You may find that the thin-kerf blade, like most others, is a bit more vibration-prone. This may not be an issue for you unless you're doing ultra-precise cuts. In that case, you might consider adding a blade stiffener, which Forrest also offers.
Sharpness
Of course, all new table saw blades are sharp. (And if you get one that's not, you should definitely return it and demand a replacement.)
But there's sharp and then there's sharp. Forrest blade teeth are razor-sharp out of the package. You should exercise extra care when installing or replacing one of these blades in your table saw. Even stationary, they're sharp enough to give you quite a cut.
Factory Sharpening
No matter how nicely you treat a blade, eventually it will dull. Forrest offers a sharpening service with about a 7-10 day turnaround. They claim that their super-fine diamond sharpeners produce a significantly better edge than other sharpening services.
Claims like this are tough to verify without putting a bunch of blades under a microscope to check the edge. But reports from a number of customers suggest that it may be true. Some have tried using a local sharpening service for their Forrest blades, with so-so results. While the blades came back sharp, they weren't quite like new. Sending them back to Forrest resulted in blades that cut as good as, or even better than, new ones.
The Forrest sharpening service is a bit pricier than you can probably find from another outfit. And needing to ship the blade back and forth to their New Jersey facility is an extra expense. Opinions honestly differ on whether it's really worth the extra money.
My own feeling is that, having put a significant investment into a Forrest blade, it is worth using the factory sharpening service. The evidence suggests that the Forrest sharpening really is better than what you'll get almost anywhere else. And if you are willing to pay for a blade like this, you probably won't be satisfied settling for a less-than-perfect sharpening job.
Forrest will also sharpen carbide-tooth blades from other manufacturers, not just their own. Some woodworkers report that Forrest-sharpened blades came back sharper than when new from their original manufacturers.
Performance
None of the technical specs above make the Woodworker II unique. In fact, spec-wise, it's a normal general-purpose blade, other than its relatively aggressive hook angle. But the quality of the cuts it makes has made it legendary in the woodworking community.
As a general-purpose blade, the 40-tooth Woodworker II can be use for both rip cuts and crosscuts. The aggressive hook angle I mentioned above means it chews through rip cuts pretty quickly, but still leaves a smooth cut. And while crosscut blades often have 60 to 80 teeth, very few of them can compete with the Woodworker II on quality of cut.
If you use your table saw for fine woodworking, you may be accustomed to cutting pieces slightly long or wide. That gives you enough material to plane or sand away the score marks or burns left by your blade. But the Woodworker II generally leaves cut edges that need little or no followup work.
Depending on your needs, the cut piece may be ready for finishing or gluing straight off the blade. While that's every woodworker's dream, it is likely that at least some minimal clean-up will be required. But you can count on it being far less onerous than cleaning up the cuts left by a typical combination blade. A couple quick passes with sandpaper or a hand plane should suffice.
I strongly recommend using this blade only on clean hardwood and softwood. Use a cheaper blade for cutting plywood, laminate, and other materials that are hard on blades.
Alternatives to the Forrest 10" x 40T Woodworker II
For general woodworking, I don't think there's a blade that does a better job than the Woodworker II. But that doesn't mean there aren't any that can compete with it, often at a better price. I'll quickly look at a few that you might want to compare to the Woodworker II. For even more alternatives, check out my roundup of the best table saw blades.
Related: The 9 Best Table Saw Blades
The Freud 10" x 40T Premier Fusion is also a premium blade, but generally less expensive than the Woodworker II. It's known for making glassy-smooth crosscuts, though it's not quite as adept at rip cuts as the Woodworker II. This is a full-kerf blade like the Woodworker II.
Compare: Forrest 10" x 40T Woodworker II vs. Freud 10" x 40T Premier Fusion
If you want to stay with the Woodworker II product line, but the 40-tooth model isn't exactly what you need, you have options. With 20 ATB teeth, the Forrest 10" x 20T Woodworker II specializes in one thing only: fast ripping of lumber. It handles up to 2" thick hardwood workpieces with no problem.
This blade will appeal to anyone who often needs to rip thick or hard materials. With only half as many teeth, it won't leave the same glossy cuts as the 40-tooth version, though only minimal clean-up should be needed.
Compare: Forrest 10" x 20T Woodworker II vs. Forrest 10" x 40T Woodworker II
The DeWalt 10" x 40T PrecisionTrim is more of a budget choice than the Forrest blade. Despite its lower cost, it still gets high marks for the quality of its cuts.
They won't quite be ready to glue up straight off the saw like with the Woodworker II. But the clean-up work should be quite minimal, especially compared to other blades in its price category.
Compare: DeWalt 10" x 40T PrecisionTrim vs. Forrest 10" x 40T Woodworker II
Conclusion
The Forrest 10" x 40T Woodworker II is commonly described as the "gold standard" of table saw blades for woodworking. You really can't go wrong with any of the saws in the product line, and the 40-tooth version is probably the most versatile. It's not cheap, but it will last you for many years with proper sharpening.
Specs
| | Forrest 10" x 40T Woodworker II |
| --- | --- |
| Brand | Forrest |
| Blade Diameter | 10" |
| Arbor Size | 5/8" |
| Thickness | 0.09" |
| Kerf | 1/8" |
| Tooth Bevel | 15° |
| Tooth Count | 40 |
| Tooth Config | ATB |
| Tooth Material | C4 carbide |
| Rake | 20° |
| Expansion Slots | |